Getting Students On Board
The function of Mulgrave's Board of Directors is to guide the long-term direction of the school. This volunteer group meets regularly - both as a complete Board and through sub-committees - to set and monitor key strategies.
As with all progressive Boards, their own governance is something that the group regularly reflects upon, asking questions such as: Do we have the right processes and policies in effect to efficiently and effectively govern the organisation? Are we able to access the knowledge and information we need to make sound decisions that align with our mission, vision and values? And, how do we know that we are, in fact, delivering our 'promise' to our community?
Through this process, Mulgrave's Board decided to invite a student member to join their cohort. "Having students on the Board brings a valuable youth perspective, which we anticipate will complement the views of our members, who are current and past parents," explains Harry Wierenga, Board Chair. "They will enable the Board to build a stronger connection to those that we ultimately serve."
To fill the position, a call went out to Grade 11 students for applications and three were short-listed by the Senior School Leadership Team for interview with the Head of School, Grade 12 Student Board Chairs, Board Member Helaine Shepard, and Senior School Principal Dr. Chiara Tabet.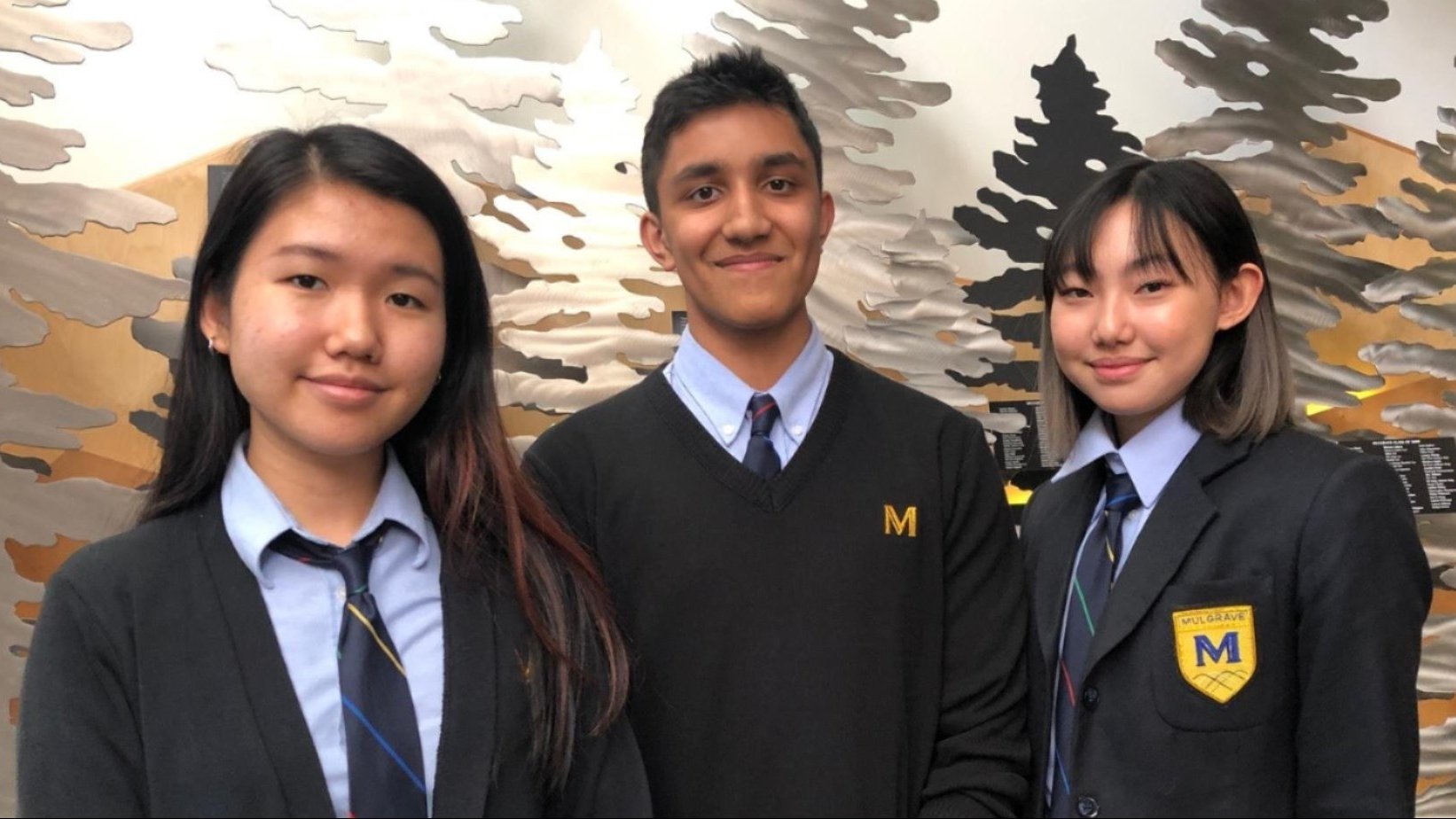 While the Board intended to appoint just one student, they simply could not turn away any of the short-listed candidates and appointed Arden Z (right) and Kaden G (centre) to the Board, and Amy Y (left) to the Board Advancement Committee. All three have a strong connection to service and leadership, as well as a desire to get involved more deeply with Mulgrave.
"I have lots of experience with student government from my old school," says Arden, who joined Mulgrave in August. "I was a class rep on Student Council in Grade 9, and in Grade 10 I joined the Vancouver District Student Council. There, I was elected to the Executive and served on the Student Services and Education Committee - which was all adults. I jumped on this chance with Mulgrave's Board because I missed this type of work."
Amy has also been involved in student groups, having served on the West Vancouver Youth Advisory Council, which works with the Mayor and Council. And Kaden represents Mulgrave with the Independent Schools Association of BC on a digital citizenship initiative.
In the first year of these appointments, students didn't really know what to expect when they submitted their applications. During interviews, candidates were briefed more fully on the role and responsibilities. "I joked that I would be willing to sign a confidentiality contract as they were explaining some of the information that's discussed at a Board level," laughs Amy. "They were quite serious when they said I would have to. It's an interesting opportunity, and we'll get to really see and be a part of decision-making at our school."
While all three students are reading up on background material to prepare for upcoming meetings, Kaden was able to rearrange his schedule, jump right in, and attend part of the Board Retreat this past weekend. "It was a little intimidating at first, but the group was very warm and welcoming," says Kaden. "I'm excited to provide a student voice to help continue to improve the school for the future."